Jocelyn Goldberg-Schaible
---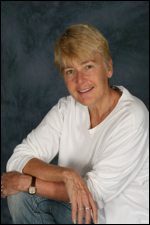 Jocelyn Goldberg-Schaible has been part of the research field since 1974. She was among the first women to graduate from Princeton University, and did so with honors. She earned her MBA from Harvard, where she was recipient of the Wall Street Journal Student Achievement Award. Her biography has appeared in "The International Who's Who of Women", "Who's Who in Finance and Industry", "Who's Who of Emerging Leaders in America", and "Who's Who in America". She was also a 2001 Athena Award finalist.
Jocelyn began her research career at John Hancock as a statistical technician, then moved to the client side of the research process in product management at General Foods. Bausch & Lomb then brought her to Rochester to be part of a strategic and tactical planning team, where she learned the value of market research and evaluation as the legwork for the strategic planning process. She then joined Gordon Black Corporation (now known as Harris Interactive) and became the firm's first director of key account marketing. Eventually, her independent streak, coupled with her commitment to the belief that "better is better" means more than "bigger is better", led to the founding of Rochester Research Group on January 1, 1985.
Jocelyn's community involvement has included serving as a lifetime member of the University ofRochester's Medical Center Board, and serving for the past 20 years on M&T Bank's Director's Advisory Council. She has also served on the Boards of the Harvard Business School Club of Rochester, the Jewish Community Center, and Geva Theatre. She was elected for four five-year terms as Vice President of the Princeton Class of 1974, and three terms as President of the Princeton Club of Rochester. Her commitment to the outdoors includes 35 winters as a professional ski instructor at Bristol Mountain, experience with both Outward Bound and NOLS, and two volunteer stints in the Israeli Army.